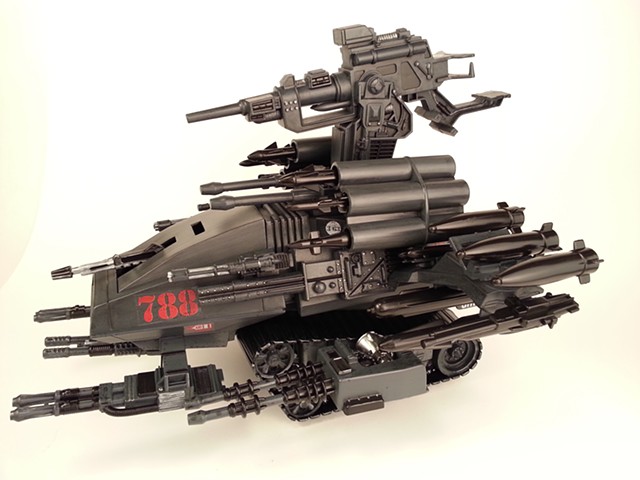 G.I. Joe - Cobra H.I.S.S. Tank - Custom
Airbrushed / Hand-painted, Kit-bashed G.I. Joe Toy Parts
11" x 9" x 11"
2014
I was asked by my friend Kevin Watts to make a custom HISS tank for an on-going art project he created called "Canvhiss Project" (he is a SUPER G.I. Joe toy collector).
This mega AWESOME wicked killing battle tank build-out was my most ambitious project to date. I worked for over 4 months modifying, constructing, building, configuring, gluing, and painting. This tank weighs in at 1.5 pounds compared to the 14 ounce original; it is 9" tall and 11" wide and long. It has 20 missiles and 14 laser guns plus 1 massive turret. I pulled inspiration from the German Panzer tanks of WWII, the "Clown" toy from Spawn, and Mad Max movie vehicles.
This is a unique hand made item.
SOLD.